FEATURING AN ALUULA REINFORCED AIRFRAME
INTRODUCING THE
HL-SERIES
HYBRID LIGHT = NEXT LEVEL LIGHT WIND PERFORMANCE, WITH AIRFRAME STABILITY BUILT FOR ALL CONDITIONS.
We gave our R&D department a challenge: how do you greatly improve standard Dacron framed kites? Their answer was to 'add ALUULA' of course …
20% Lighter  than our 2020 Dacron-Series kites, the new HL-Series kites are the second lightest inflatable kites in the world, second only to Ocean Rodeo's A-Series kite range!
Strategically placed ALUULA composite materials are blended with Dacron to create a new hybrid construction class that delivers decreased weight with improved airframe response. 
ALUULA fabric has been inserted into key overlays and reinforcement panels, while the struts have a full ALUULA panel running from the leading edge to the strut tips. This ALUULA strip is strategically placed to tighten up the airframe flex, providing faster turning and improved stability.
With the HL-Series, we didn't just stop with the introduction of ALUULA … Every single seam and component was reviewed and improved. If any weight savings could be found, we addressed them with new parts and processes, while at the same time maintaining our 20-year legacy of producing "Built Tough" kites that are designed to be ridden hard.
Further new features to be found on all 2021 HL-Series kites:
• New bladder install system = less weight / improved durability (Pat. Pend.)
• New strut and LE ends = less weight / improved response (Pat. Pend.)
• Refined inflation system = less weight / less drag
• Refined HL-Series seam technology = improved durability
• New low-drag bridle system = less drag / improved response
• Ultra clean airframe = less drag
WHICH KITE IS RIGHT FOR YOU?
Hover over a kite to find out more
WAVE / BOOSTING / FREERIDE
FREERIDE FOIL BOARD / SURF
Tensile Strength (Warp / Weft)
Tensile strength is a measurement of the force required to pull something such as rope, wire, or a structural beam to the point where it breaks. 
The lengthwise or longitudinal warp yarns are held stationary in tension on a frame or loom while the transverse weft (sometimes woof) is drawn through and inserted over-and-under the warp.
Modulus of elasticity measures a material's resistance to being deformed elastically (not permanently) when stress is applied.

Tear Strength (Lbs of force)
Tear resistance (or tear strength) is a measure of how well a material can withstand the effects of tearing.

| | |
| --- | --- |
| ALUULA 82 gsm composite panels run the length of the strut to deliver up to 3 times higher modulus / stretch resistance than industry standard Dacron. The high modulus ALUULA creates a direct connection from your bar inputs to kite turning and sheeting. Synced connectivity between the leading edge and struts is attained by ALUULA Composite gussets.  | |
| | |
| --- | --- |
| The precision curved struts hold the designed foil shape delivering the desired performance through the wind range. | |
| | |
| --- | --- |
| Used specifically on the shaping seams of struts, Quad Lock delivers more than twice the strength of standard strut seam constructs, and was another innovation specifically tailored for the ALUULA airframe kites. | |
| | |
| --- | --- |
| A band of ALUULA 82 gsm composite runs from wing tip to wing tip along the connection seam between the canopy and leading edge. With twice the tensile strength of the underlying Dacron leading edge fabric, the ALUULA strip also stiffens the Dacron leading increasing the Modulus (resistance to stretching while under load). Increased stability and handling in all conditions. | |
| | |
| --- | --- |
| All reinforcement overlays on the leading edge have been upgraded to ALUULA. With the composite's superior tear and puncture resistance, you can be assured that these traditionally "weak points" are now amongst the most enduring parts of your air-frame. | |
| | |
| --- | --- |
| The canopy's reinforcements, overlays and anti-flutter strips now benefit from ALUULA's remarkable strength to weight ratio and it's superior abrasion resistance compared to  Dacron and other much heavier abrasion solutions. | |
Designed specifically for the kiteboarding market, Teijin's Technoforce D2 ripstop has high tear resistance, low stretch, and is incredibly lightweight.

Each strand of yarn is individually coated before being woven together. A second surface coating is then applied to the material, providing long term endurance.

Teijin D2 is the benchmark in quality with proven superiority in durability and dynamics.
Our ultra clean inflation system is designed for reliable operation of single point inflation. Valves are strategically located to stay clear of the canopy, negating the need for valve covers or other chafing solutions. 

Other refinements are the omission of zippers on the leading edge. These zippers are used only for kite bladder changing, and are one of the primary causes of failure on kite leading edges. Bladders are simply installed though the large valve hole. 
Highly refined, the compact two pulley bridle is designed for arc stability and no snagging, while at the same time providing direct drive steering and a massive sheeting range. The Bridle is compatible with all bars that feature a single front line flag out emergency de-power system.

Industry standard larks head on LE bridle to front flying line knot or bead. Back lines larks head to bead or knot on kites back line leader. Bridle is designed to accept bars fitted with lines at equal length when set at pull power.

Features ultra strong, low diameter, stretch resistant line for reduced drag and increased response. 

Other refinements are the omission of zippers on the leading edge. These zippers are used only for kite bladder changing, and are one of the primary causes of failure on kite leading edges. Bladders are simply installed though the large valve hole. 
The Sherpa Kite Bag comes standard with all HL-Series kites.
We've all been there, draping multiple kite bags, pumps and boards over every appendage of our bodies. Fumbling our way through rugged terrain in search of that perfect wave or glassy flat.
The Sherpa system makes it easy to connect and stack an unlimited numbers of kite bags off your back or chest for a perfectly balanced hike in and out.
Free up your hands and arms for effortless climbing. In seconds, stash your board and pump away. Designed for riders who search for the ultimate ride, it's never been easier to find out what's around the next headland.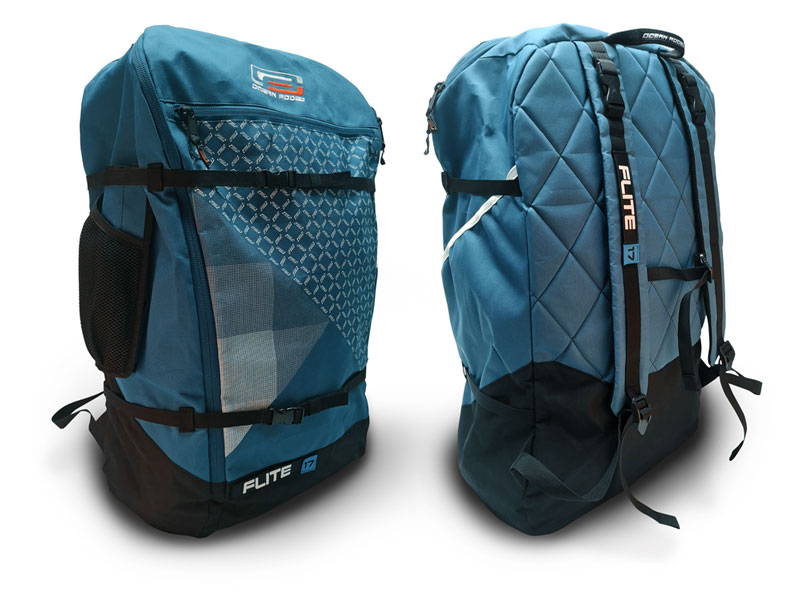 To make things even easier the Sherpa Kite Bag is colour coded via strategically placed colour coded size labels. Aligned to match wind strength colours used by leading web-based wind forecast websites, with a quick glance you'll know if you're grabbing a 17m or 9.5m.
Because a lighter kite means a better ride.
ALUULA, an ultra-light, ultra-strong and stable composite material, not only improves light wind performance but also increases handling, stability and flying performance in all wind conditions. This makes an ALUULA kite more efficient than a standard kite, performing better in all respects, including speed through the air, turning speed and light wind stability.
Why do you need the lightest kites on the market?
• Better for freeride, freestyle and surf riders. With more response in all departments and in all conditions, you'll enjoy faster snaps, loftier hang-time, better drift and the confidence to ride even when conditions are marginal.
• Better for boosting and hang-time. With a kite that's half the weight and has a stronger airframe, you have a confidence-inspiring boosting machine. You can also generate power on both your down and upstroke… Something that was unheard of in kite performance until now.
• Better wind range. Because the kite is 3-struts, and yet as light as some no-strut kites, the same kite will deliver rock-solid performance and stability at the top end of the wind range, as well as in extreme light wind.
• Better relaunch. Simply pumping one back line will cause the airframe's stiffer flex to work the kite out onto one wing tip, and into the air. The A-Series kites are easier to reverse launch in light winds too.
• Better for learning. You'll find your level improves immediately with an A-Series kite. Flying the kite is easier during all manoeuvres as, due to the lighter weight, an ALUULA kite resists both flying too far forward, and back stalling.
• Better for travel. When two A-Series kites weigh the same as one traditional kite, it's a no-brainer… More kites on your trips means more time in the water.
LEARN HOW USING A LIGHTER KITE WILL IMPROVE YOUR RIDING.
Enter your name and email to get started…
In our three part email series, you'll find out ...
Why a lighter kite means a better ride...
Why opening up the wind range means more time on the water...
How to move your riding forward!
With input from international team riders and our very own founder Richard Myerscough, this 3-part email series explains how lighter kites can be extremely beneficial to your riding, and how they're going to push the sport of kiteboarding forward dramatically in the coming few years. So you'll get to find out a little more about the mystical ALUULA material and how, now, dass die A-Series kites are publicly available, this material is set to change the game as we know it ...
Proudly endorsed by Export Development Canada and Innovation Canada